You can transfer your music from Distrokid to us without a problem. Du keep all streams, playlist placements, monthly listeners and followers
Here's what you need to do:
1. Create an account at rewave.ch
Go to rewave.ch/signup and create an account or login if you already have on.
2. Create a release on the REWAVE website
Login and click the top right "Create Release" button.

3. Enter the exact same release data as entered on Distrokid for the release you want to transfer
3.1 Use the exact same title and label (if you didn't put a label at Distrokid just put your artist name as label on rewave). Upload the same cover from Distrokid too. If you don't have the cover anymore, just go to the distrokid website, go to your release, click the magnifying glas and then right click on the image to save it with save image:

-----------
Then you can upload the cover on REWAVE. If REWAVE gives you a wrong size error notification, you can resize the cover to 3000 by 3000 pixels here: Click
3.2
After that go to the second page of the create release site and enter the same data as on Distrokid. Take the same release date from Distrokid and enter it in the "Original Release Date" field (first red arrow). You also have to copy your UPC code from Distrokid and enter it at the bottom on REWAVE (second red arrow). You can find your UPC code from your Distrokid release under the magnifying glas on the distrokid site on the bottom right. See below (2 images):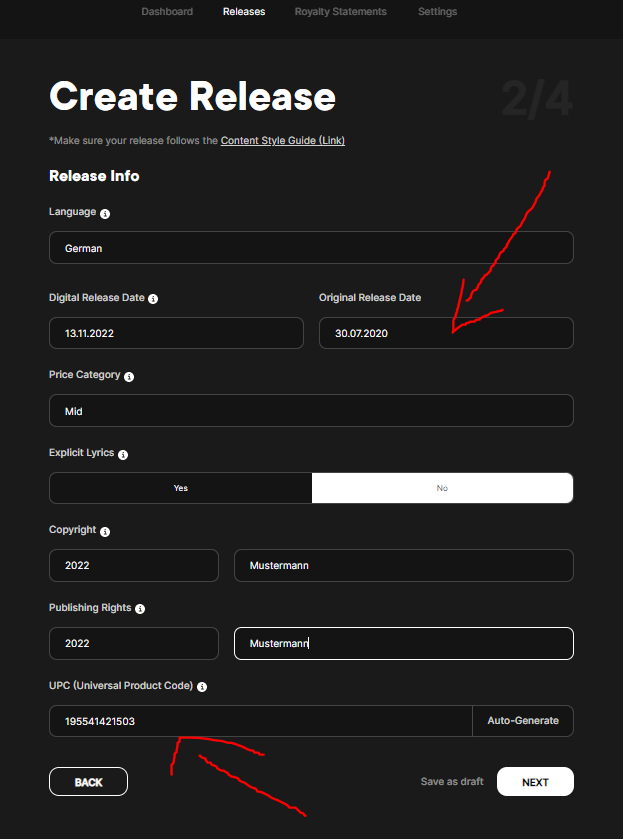 -----------
Distrokid UPC Code:

3.3
After that click "Next" and go to the next page. Upload your song / audio / track. If you receive a wrong format error, go to this site and convert your song to wav 16bit: Click here. After your song is uploaded on REWAVE, click edit. Now you need to copy your song's ISRC code from Distrokid, you can find it here:
-----------
Then go to REWAVE and paste the ISRC code at the bottom of the Track edit page: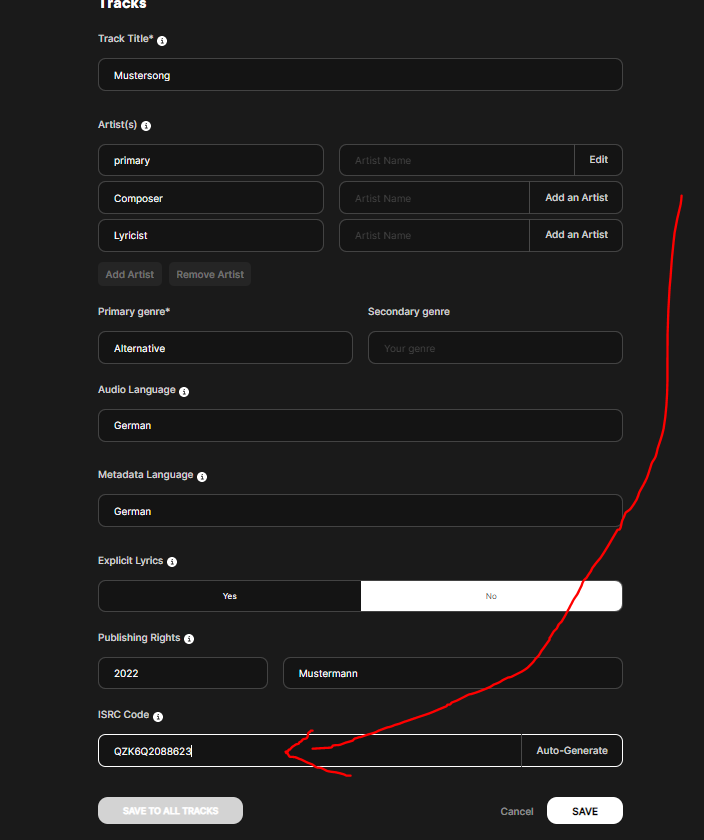 -----------
Click "Save" and go to the last overview page where you can also select your desired stores.
4. Finalization
Submit your release and wait for REWAVE to approve it (1-2 days max). After that wait another 3-5 days and then you can takedown your songs from Distrokid.